Skip to Content
Commercial Lawn Mowing Service Serving Manchester, NH
Accurate Landscape Has Expert Mowing and Edging Services
When you own commercial property, you care about how your business looks as customers approach. This is true whether you are making a first impression or even if your customers have visited before. You want your signage to look amazing and the building to look beautiful, and it is just as important to keep your landscaping looking perfect as well. That's what we do at Accurate Landscape and Snow Management in Manchester, New Hampshire – our lawn mowing service and other services will keep your commercial landscaping immaculate! We focus on your landscaping so you can focus on your business.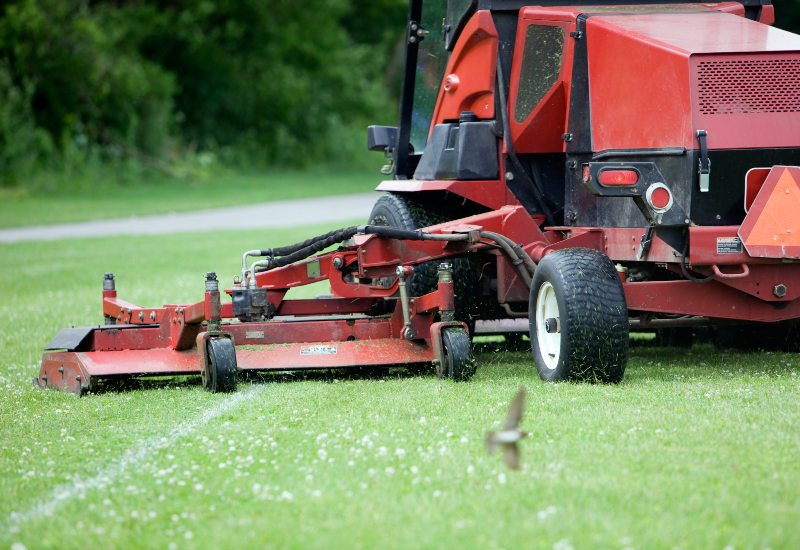 There are Many Benefits to Regular Lawn Mowing
Part of keeping your landscaping perfect is regular lawn mowing and edging. There are several important benefits to regularly mowing your lawn:
Regular cutting stimulates the growth of grass blades. Grass, like any other flowering plant, grows green leaves until it is time to produce flowers and pollen. Yes, grass makes flowers – they are just very tiny flowers! Cutting at the optimal time, as determined by weather and water, allows the lawn to stay healthy and prevents the grass from stopping its growth to produce flowers. After cutting, strong blades continue to grow, while the weak blades die back. The result is a thick, green, and vibrant lawn.
Cutting weeds and tall grass greatly decreases the number of insect pests in your lawn. This can mean that very little to no pesticides ever need to be used.
Regular cutting breaks up the thatch layer of dead organic matter. Mowing chops this material very finely so it can be added back to the soil to maintain a healthy lawn.
Regular cutting helps with weed control. Most weeds need to grow a little taller than the grass in order to produce flowers, so regular mowing helps control the weeds so you may need very little to no herbicides to control the weeds.
There are Also Many Benefits to Regular Landscape Edging
Just like with regular mowing, there are many benefits to regular edging of your landscaped areas:
Regular edging creates sharp boundaries that look better. We've all seen it – flower beds that creep into lawns and lawns that creep into the beds. Regular edging creates a distinction between the lawn and other features that shows you care about your landscaping.
Regular edging makes it easier to keep your landscaping looking perfect. Even if the lawn is cut on a regular basis without edging, the job of edging is much more difficult when it has been put off for too long.
Regular edging protects sidewalks, pavers, and other walkways. As grass grows under and between rocks, bricks, and sections of concrete, the grass puts pressure on your walkways, leading to damage over time. Sometimes that damage is minimal, simply lifting your walkway. But when it goes unchecked, it can eventually contribute to cracks in your sidewalk.
We Offer Many Choices for Landscape Edging
In addition to cutting the grass along edges to create a "soft edge," we can also install materials to create a "hard edge." These materials include metal (such as aluminum, steel, or galvanized steel), wood, plastic, or rock (such as rough rock, bricks, or pavers). Installation of these products can keep the delineation between lawns and beds more obvious, and the choice of materials mostly depends on your desired style. Our professional installers can put in any of these edging choices for an amazingly distinctive look.
Our Commercial Lawn Mowing and Edging Services
Our mowing and edging services include strict attention to detail. We will assess what the proper length of your grass should be based on the health of the lawn and the weather, and we will cut it accordingly. Then we will edge to provide those distinct lines and to protect your walkways. After that, we will perform weed control and removal as needed. And finally, we will blow and pick up grass clippings so your lawn, beds, and walkways are immaculate. And if you need additional landscaping services, we offer those as well.
Offering Professional Services that Give You the Best Look
While it might seem that almost anyone can mow the grass, experience and quality lead to a much better result. To keep your commercial property looking its best, call Accurate Landscape and Snow Management in Manchester, NH. Since the entire community drives past and sees your property, this is a smart investment for your business. Try us out for mowing and edging services – we think you will be so pleased with the results you will also want to use our other services, including planting trees and shrubs, building firepits and patios, installing irrigation, and even heavy winter snow removal.
Give Us a Call Today!
Whether you are considering modifications to your commercial landscape, have a few specific questions, or are ready for a major landscape renovation, please give us a call or use our online contact form! We are the landscape experts and part of your community here in Manchester. Our staff of fully trained, safety-conscious professionals is ready to help with all aspects of your commercial landscaping needs.
No Matter the Season, Accurate Landscape & Snow Management Is There!