Skip to Content
Tree & Shrub Planting in Manchester, NH
Planting Trees and Shrubs
Trees and shrubs can make a big difference in the appearance of your landscaping. Whether you are looking to add depth and height to your aesthetic or need a border for your walkway, trees and shrubs can enhance the look of your property's exterior landscaping.
You might be surprised to learn that there is more to choosing and planting trees and shrubs in your landscaping than meets the eye. If you are interested in planting trees and shrubs, having a professional tree-planting company assist you is essential to the success of your project. There are many factors to consider when planting trees and shrubs to ensure the health and longevity of your plants.
Planting trees and shrubs is an investment in your property, so it is recommended that you find a service that is experienced in selecting, planting, and maintaining the health of trees and shrubs. Accurate Landscape & Snow Management in Manchester, NH, provides everything you need to succeed with our tree and shrub planting services.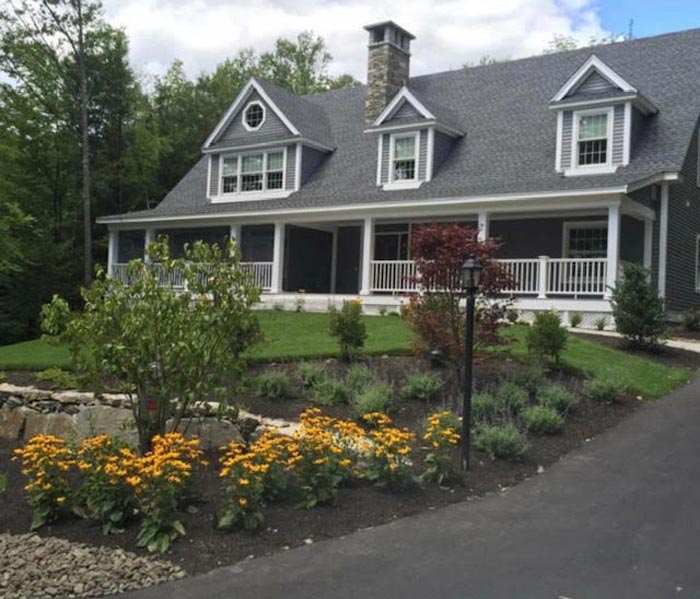 Before You Plant Your Trees & Shrubs
New trees and shrubs can be a welcome addition to your property. However, there are several factors to consider before planting. This is why making a plan for your tree and shrub planting is so important. When choosing trees and shrubs for your property, considerations such as the type of soil and landscape are important to ensure that you are choosing plants that will grow and thrive in their new home.
Once you know the type of plants that will grow best on your property, the selection of your trees or shrubs is the next step. Having a team of experts like Accurate Landscape & Snow Management can ensure that you are getting plants that are healthy from the start, to help keep the plants looking their best. Planning for the selection and installation of your trees and shrubs can protect your investment and make sure that you are saving money.
When you work with our team at Accurate Landscape & Snow Management, we help take the guesswork out of planning your exterior and selecting the right plants for you. Let us be your tree and shrub planting guide to make your landscaping dreams come true.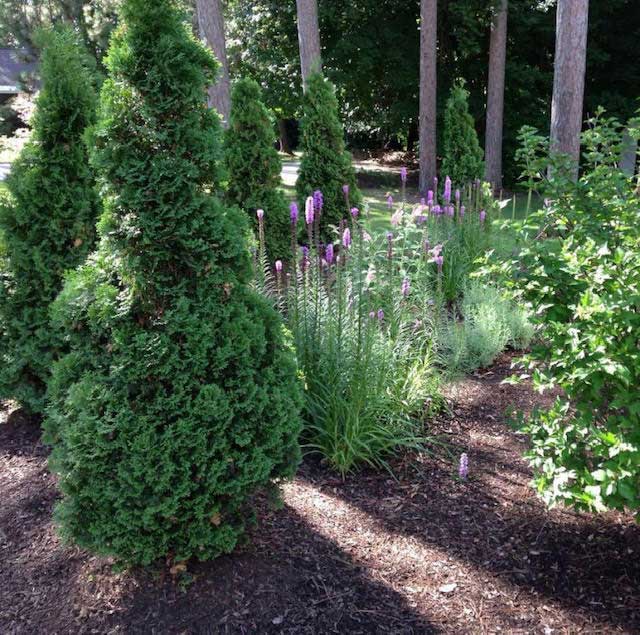 Benefits of Planting Trees and Shrubs
There are many benefits of planting trees and shrubs on your property. Trees and shrubs offer longevity to your landscaping. Over time, they grow and flourish, adding depth to your yard. Trees and shrubs protect the soil and help to prevent erosion. They can also provide shade that will not only make your outdoor space more comfortable but will provide an environment for different types of smaller plants, ground cover, and flowers to grow. When you choose trees and shrubs for your yard, you are investing in the life of your landscaping.
In addition to enhancing the appearance of your outdoor space, tree and shrub planting can provide privacy and separate spaces to create interest and function. Trees and shrubs anchor your landscaping and provide long-term beauty.
Another benefit of planting trees and shrubs is that they can be relatively low maintenance. Rather than planting each season as with annual flowers, trees and shrubs generally require minimal routine maintenance and cleanup. This gives you a one-time planting that has the potential to enhance your space for years to come.
When Is the Best Time to Plant?
Most people think that the best time to plant is in the spring. In some cases, such as flowers, this may be the case, but the best time to plant trees and shrubs is actually in the fall. In the fall, the soil is soft and gives the roots time to get established. Spring soil can be shallow and can take time to thaw, so the roots cannot go as deep. Planting in the summer can be successful in certain climates, but it can be challenging in times of prolonged dry weather or extreme heat, which can affect the health of the trees and shrubs while they are taking root.
Tips for Caring for New Trees and Shrubs
Caring for trees and shrubs is important, especially in the early stages of planting. Planning ahead for your tree and shrub placement and selection as well as talking with your tree and shrub planting service will help you to make sure you are prepared to care for your plants and protect your investment. Talk with the experts at Accurate Landscape & Snow Management when planning your tree and shrub planting project. Some factors to consider include:
Mulch
Fertilizing
Pruning
Protection
Sod and soil removal or maintenance
Planting area
All of these factors are areas you can discuss when planning your project, so you understand what the project will entail and what you will need to do to maintain your trees and shrubs after they are planted.
Tree and Shrub Frequently Asked Questions
Choose Accurate Landscape & Snow Management
Our experts at Accurate Landscape & Snow Management know a thing or two about trees. We walk you through the process of selecting the best trees and shrubs for your property as well as planning out the process of planting from start to finish. We are here to answer any questions you may have about selecting, planting, and caring for your trees and shrubs. We are dedicated to helping you maintain a beautiful property with healthy, flourishing trees and shrubs. We offer a one-year warranty on all plants and tree installations on your property. Contact us today for a free consultation.
No Matter the Season, Accurate Landscape & Snow Management Is There!