Skip to Content
Rely on Us for Excavation and Drainage Services
Water always finds the path of least resistance when flowing, and sometimes this path flows against your foundation, causing severe issues over time. Accurate Landscape & Snow Management help in creating new drainage systems using excavation equipment and more. Our experience has allowed us to discover the best ways to help homes and offices all over the Manchester and southern NH area. We offer services to stabilize slopes and alleviate standing water. Trust our Knowledge and experience to prevent these issues from occurring again. Give us a call today and receive a free consultation and quote. Trust the drainage experts in Southern NH and the Greater Manchester area.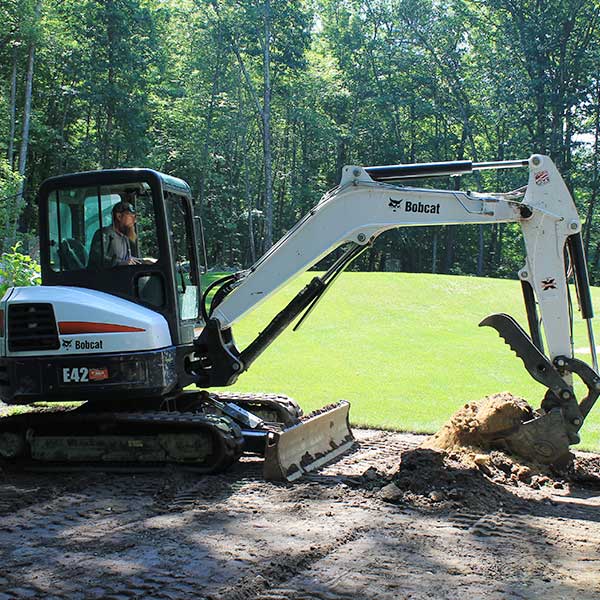 Types of Drainage Systems We Build
We have studied many different drainage systems and excavation methods over our years of service. Our clients rely on our efficient and effective solutions to keep water from flowing into their basements, yards, parking lots, and other spaces it simply doesn't belong. During our consultation, our professionals will help explain what systems need to be implemented and why. We will also go over all steps necessary to complete each one. Below are some examples of drainage jobs we have installed:
French Drains
Foundation Drains
Dry Wells
Gutter Drains
Stump Removal
Sink Hole Repair
Utility Trenching
Excavation Equipment and Vehicles
With industry-leading equipment and vehicles, our team will ensure your new drainage system is installed with care. We will focus on keeping the area as clean and neat as possible. If the services are in an emergency, we understand the necessity to move quickly, but it will not stop us from delivering high-quality work and care. Whether you are moving to a new space and can already recognize the signs of needing a new drainage system or are tired of staring at a fresh lake in your backyard, we are the team to trust.
No Matter the Season, Accurate Landscape & Snow Management Is There!