Skip to Content
Excavation and Drainage Services in Manchester, NH
Rely on Us for Excavation and Drainage Services
Water always finds the path of least resistance when flowing, and sometimes this path flows against your foundation, causing severe issues over time. Accurate Landscape & Snow Management help in creating new drainage systems using excavation equipment and more. Our experience has allowed us to discover the best ways to help homes and offices all over the Manchester and southern NH area. We offer services to stabilize slopes and alleviate standing water. Trust our knowledge and experience to prevent these issues from occurring again. Give us a call today and receive a free consultation and quote. Trust the drainage experts in Southern NH and the Greater Manchester area.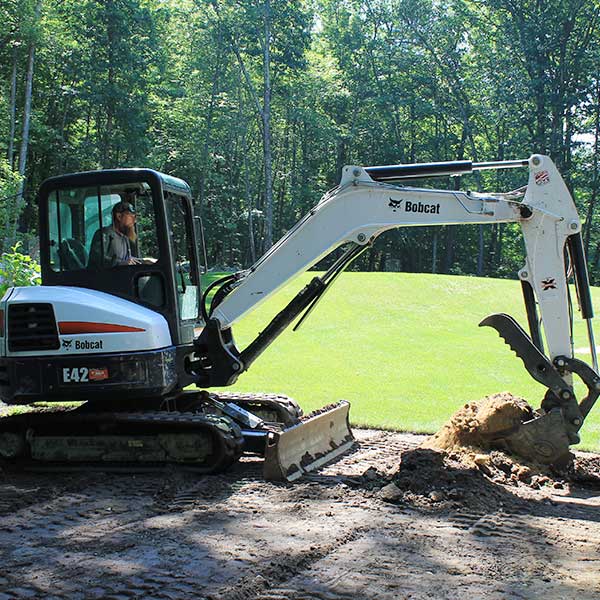 Our Excavation Process
Previously, excavating a yard was an in-depth process that could ruin landscaping. When you hire Accurate Landscape & Snow Management, we take careful consideration of your yard and landscaping to make as minimally invasive excavations as possible. Our process includes:
Inspecting your yard to identify certain areas that will require more finesse
Developing an effective drainage plan
Delivering you a free estimate
Digging trenches and laying down necessary piping
Coving your drain
Repairing landscaping as if we were never there
Full inspection upon completion
Types of Drainage Systems We Build
We have studied many different drainage systems and excavation methods over our years of service. Our clients rely on our efficient and effective solutions to keep water from flowing into their basements, yards, parking lots, and other spaces it simply doesn't belong. During our consultation, our professionals will help explain what systems need to be implemented and why. We will also go over all steps necessary to complete each one. Below are some examples of drainage jobs we have installed:
French Drains: French Drains are perfect for when you have a problem with surface water. If you have a constantly flooded lawn or driveway that constantly washes out, a French Drain allows water to flow through a gravel-filled trench to avoid pooling water.
Foundation Drains: A Foundation Drain is a system of pipes installed under your foundation or basement to collect water and move it away from the area to prevent flooding and water damage. They connect directly with the sanitary sewer work and require no maintenance.
Dry Wells: Dry Wells are useful for preventing large areas of pooling water from appearing in your yard after a storm. They use gravity to redirect water to the lowest point in your yard, where the dry well is buried and dissipates the water into the soil.
Gutter Drains: Gutter Drains drain water from high traffic areas, such as sidewalks and driveways, underground and away to a different area. This also helps keep your foundation and basement dry and safe.
Stump Removal: If a stump is in the way, dangerous, or just ruining your home's aesthetics, we can efficiently and safely remove it for you. Stumps left in your yard can cause many issues if not removed properly.
Sink Hole Repair: We perform reliable, comprehensive sinkhole repair services. This includes repairs, installation, maintenance, and inspection.
Utility Trenching: Our team adheres to the strict codes for digging utility trenches. We conduct utility trenching for town water and sewer, electric, and gas conversions.
Excavation Equipment and Vehicles
With industry-leading equipment and vehicles, our team will ensure your new drainage system is installed with care. We will focus on keeping the area as clean and neat as possible. If the services are in an emergency, we understand the necessity to move quickly, but it will not stop us from delivering high-quality work and care. Whether you are moving to a new space and can already recognize the signs of needing a new drainage system or are tired of staring at a fresh lake in your backyard, we are the team to trust. Our Excavation & Grading Services include:
Excavation & grading
Foundation excavation
Trenching
Utility ditches
Construct/resurface driveways and roads
Retaining walls
Our investment in heavy equipment for the gravel processing operations has given even more versatility to our excavation division
No Matter the Season, Accurate Landscape & Snow Management Is There!