Skip to Content
Professional Hardscapes Installation Services in Manchester, NH
Outdoor Fire Pits, Driveways, Patios, Stone Walls, & More
You can trust the team at Accurate Landscape & Snow Management for your hardscape needs in Manchester, NY. We have been beautifying properties throughout New Hampshire with hardscape options since our inception. Our team can help make your space look its best by installing hardscape throughout your property. You can count on us for the best hardscaping services for your home or business. We start by scheduling a free consultation with our design experts to discuss your needs and create a plan. Our team has installed more than 60,000 square feet of pavers and 15,000 square feet of retaining walls, so you can trust that we have the experience to get the job done right. Learn more and get in touch with us for a free estimate.

What Is Hardscaping?
Many of our customers want hardscaping services, but they don't know exactly what the word means. Hardscaping involves placing non-living elements into an outdoor environment. According to Wikipedia, "hardscape refers to hard landscape materials in the built environment structures that are incorporated into a landscape." Hardscaping is hard work that many home and business owners should not attempt themselves. Our professional hardscapers have all the experience, equipment, and expertise necessary to perform patio installation services, stone wall installation, driveway installation services, and more. Check out our portfolio to get a better idea of your hardscaping options.
Comprehensive Hardscaping Services
Accurate Landscape & Snow Management beautifies properties with hardscaping options. We use stones and other materials to help accentuate and complete your landscaping project. Check out some of the hardscaping projects that can be completed on your property:
Outdoor Fire Pits
An outdoor fire pit can become the focal point of your events and gatherings. Your new fire pit will provide warmth, illumination, and ambiance. You can toast marshmallows, relax, or entertain and socialize. You'll love your campfire-like atmosphere. Our team can help you choose the right outdoor fire pit for your home.
Driveways & Walkways
We install perfect custom-designed driveways and walkways. Choose standard paver driveways or something more unique. Stone walkways can make your property visually appealing, and we also install paver pathways. All of our walkways include plastic edge restraints and polymeric sand sealing in the paver joints.
Patios
We excel in patio walkway installation services in Manchester. A new patio can make your outdoor living space even more beautiful and enjoyable. We can help you design your patio before we install it. Our team can also add a deck to your office. Allow us to add a fireplace, seating wall, pizza oven, or pergola to your new patio so you will enjoy it even more.
Retaining Stone Walls
Adding a retaining stone wall to your property will enhance your landscape. These features allow you to create multi-tiered plant beds while preventing erosion, runoff, and sloping. We will excavate 3" behind each wall to allow for a better drainage system installation. Our masonry team can suggest natural stone or manufactured depending on your style.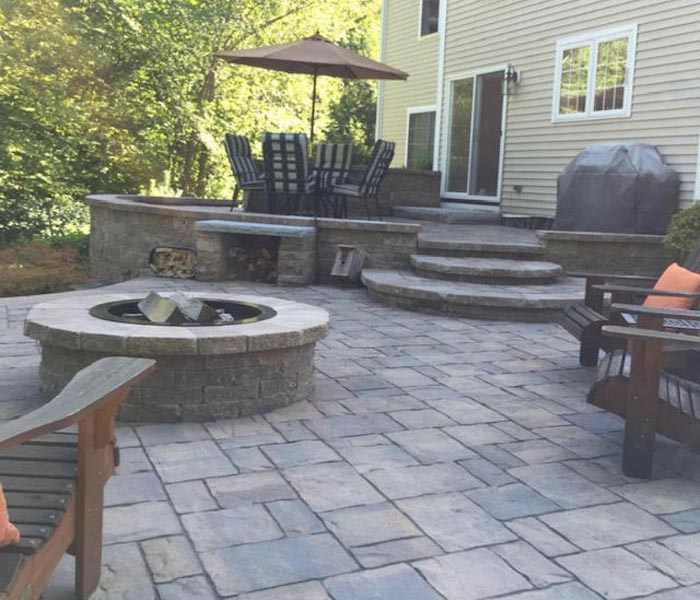 Choose Our Team for Your Hardscaping Needs
You can sit back and relax while enjoying your new hardscaping even more, knowing that we offer excellent warranties for our services and products. All the materials used and services provided to our customers are covered by a five-year warranty. We strive to build a solid relationship with all our customers to ensure you feel confident when choosing to hire our team. Contact us today to get started with your free estimate.
No Matter the Season, Accurate Landscape & Snow Management Is There!