Skip to Content
Trust the Team at Accurate for Your Hardscape Needs
Since inception, we have been beautifying properties throughout New Hampshire hardscape options. We also help make your space look it's best by installing hardscape options throughout your property. Whether at homes or commercial facilities, our professional team can make your hardscape dreams become a reality. We will begin by scheduling your free consultation with our expert designers. They will discuss your needs and wants to help map out and decide the best available options. We have installed over 60,000 square feet of pavers, 15,000 square footage of retaining walls, and our team has the necessary experience building these types of products. Reach out today to start the process of getting your new hardscapes installed by Accurate Landscape & Snow Management.

Accurate Landscape Beautifies With Hardscaping Options
Hardscapes use stones and other materials to help accentuate and complete your landscaping project. Here are various Hardscaping projects that can be completed on your property:
Walkways
Whether you want to go with natural stone options or manufactured pavers, Accurate Landscape & Snow Management has you covered. These are a beautiful addition to any home or office, as they lead your guests and customers around your property. To prepare, we will remove all organic soil until we reach an ideal sub-base depth. All of our walkways include plastic edge restraints and polymeric sand sealing in the paver joints.
Walls
Retaining walls help give your home and office an added aesthetic appeal by breaking up a hill on your property. They also help protect from issues such as flooding and erosion. Our team will excavate 3' behind each wall to allow for a better drainage system installation. Our masonry team can suggest natural stone or manufactured depending on your style.
Patios
Having a patio installed at your office or home does not only add beauty but more importantly, it adds space to entertain. By adding another room, you are adding value to your home while also creating a space to relax. There are plenty of features we can add as well, such as a fireplace, seating walls, pizza oven, or pergola, to help you enjoy your new patio even more.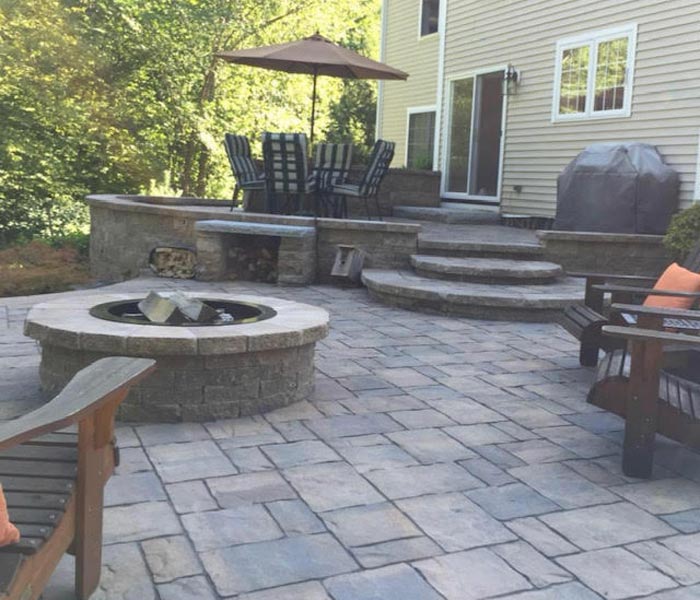 Enjoy Our Five-Year Warranty
You can breathe easier when hiring Accurate Landscape & Snow Management because we offer excellent warranties for our services and products purchased. All the materials used, and services provided to our customers are covered by a five-year warranty. Accurate Landscape and Snow Management strives to build a solid relationship with all of our customers to ensure you feel confident when choosing to hire our team.
No Matter the Season, Accurate Landscape & Snow Management Is There!